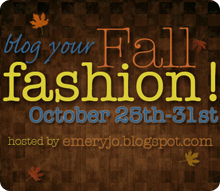 So here we are on the final day of fall fashion week. On the one hand, I am sad to see it go. I have enjoyed glimpses into the outfits and lives of the lovely ladies who have participated, and I have added several new blogs to my reading list. On the other hand, I am so tired of taking pictures of myself...but here are the last few for a while! :-)
top and pants: Banana Republic outlet
shoes: several years old
The necklace is a special one. My husband gave it to me for my birthday when I was pregnant. Cara's due date was June 30, and I was absolutely certain that she was going to come early, so I asked for a pearl something since June's birthstone is a pearl. And I received this lovely:
However, Cara didn't make her appearance until July 8...and the July birthstone is a garnet. I still love the necklace.
Cara looked extra precious for church this morning:
black t-shirt, shoes, and tights: Target
hairbow and dress: jessica originals
That is such a school picture smile.
This dress is made of the same fabrics I used to make these
pants
, and I followed the same pattern as
dress #3
, but this dress has a ruffle at the bottom instead of a band and, obviously, no sleeves. Finishing the armholes was scary and difficult though. Don't look at them too closely... Even though it's not perfect (and I don't think anything I make myself will ever be perfect), I think this is the cutest dress I have made so far.
on a completely different note:
I don't know if anyone has really noticed, but I have been on a complaining binge lately (as evidenced by
this
,
this
, and
this
). I have been getting on my own nerves with all of this whining, so I have decided that the month of November will be 30 Days of Gratitude. Sounds a little hokey with Thanksgiving and all that, but it is by divine design that our holidays and seasons of celebration fall this way. We have the season of Thanksgiving so that we can stop and appreciate the little (or big) things of this world that we are blessed with, and then we have Christmas to stop and appreciate the VERY BIG thing NOT OF THIS WORLD that we are blessed with. I can't think of better way to prepare my heart for that than to stop and be thankful for something every day of November.
I hope that some of my blog friends (new this week and ones who have been reading all along) will share things they are thankful for or perhaps write their own 30 Day of Gratitude and post links in the comments. I would love to read about the blessings in other people's lives, and I am really looking forward to my own intentional attitude adjustment.