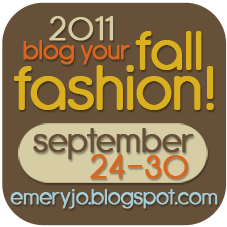 I know that Fall Fashion Week over at
Emery's blog
actually started yesterday, but I have to confess that I didn't manage the whole "getting dressed" thing yesterday. There's no sickness or anything that
prevented
me from taking a shower and putting clothing on; I just didn't want to. I needed a Saturday of resting, not leaving my house, and (wait for it...) SEWING! 
I know this isn't what people typically do when they need a day off, but it works for me. This past week felt like it would never end and I was at a constant state of 5:30 in the morning, so I decided to take the weekend off from the world. I made my little family hang out with me at Hobby Lobby on Friday night (wild times) so that I could pick out some fall-ish fabric, and Cara now has two new dresses to add to her newly cleaned-out closet.
I stretched my creative muscles a little with these dresses. I used the
Leila and Ben Sweet Dress pattern
, which I have made
hundreds
of times (see
here
and
here
), but I added some different twists to these dresses. I'm not going to pretend to be a designer or anything as I'm fairly certain that I'm not the first person to think of adding a ruffle or an elastic waist to a peasant dress, but my google search did not produce any tutorials or pictures that were similar to what I wanted. For going at it on my own, I'm pretty proud of how these dresses turned out.
Here is dress #1 with a ruffle down the front. Dress #2 will be coming tomorrow, most likely.
leggings: Target
shoes: Kohl's
hairbow: gift from my sister
And here I am, about 17 weeks preggo.
dress: Forever 21
jacket: Ann Taylor LOFT
My shoes will remain a mystery.